Simulator SusanNe
susanNE stands for "SUSAN New Edition" and is a state of the art TRANSAS Navi-Trainer Professional 5000 (NTPRO 5000) series simulator
It is located in the MARIKO Leer in direct neighbourhood to the Nautical Academy (HS Emden/Leer, FB Seefahrt)
Five bridges can work simultaneously in a network allowing navigation in sea areas from all over the world on all common types of vessels.
susanNE is used in cooperation with the Nautical Academy and can be utilized for students as well as for shipping companies and research projects.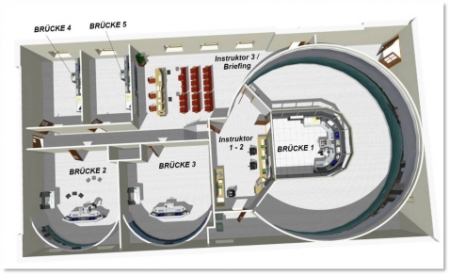 Bridge 1 (Main Bridge) 270° view, modular ASD and tractor tug handles
NavLab 1 with 180° view and rear visual channel, DP Console, Winch Console, modular Rotor Tug and Voith Schneider handles
NavLab 2 with 180° view
NavLab 3 with 120° view
NavLab 4 with 120° view
2 Engine Room simulators
Fully equipped GMDSS-stations implemented on all bridges.
Navigational simulator NTPRO 5000 enables simulator training and certification of watch officers, chief officers, captains and pilots serving on commercial and fishing ships with the gross tonnage of 500 tons and more.
This complies with requirements of IMO STCW 2010 Convention and Model Courses 7.01, 7.03 as well as number of specific tasks beyond the Convention.
NTPRO 5000 simulator is certified by DNV as a Bridge Operation Simulator Class A with class notation "Integrated simulator system, NAUT AW (SIM), DYNPOS – AUT (SIM), HSC, TUG, ICE, AHTS" and Dynamic Positioning Simulator Class A as per the latest edition of Standard for Certification of Maritime Simulators No. 2.14 January 2011.(source TRANSAS).